12. August 2021 - 13:58 Uhr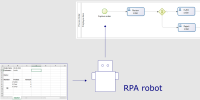 Robotic Process Automation (RPA) is very popular for automating routine tasks. However, RPA is not very good at controlling entire end-to-end-processes. This is the realm of Workflow or Business Process Management Systems. Therefore, it can be a good idea to connect BPMS with RPA. The BPMS manages the overall process flow. The different tasks in the process can either be user tasks or system calls via interfaces – or tasks that are performed by RPA bots.
The latest version of the BPMS Bonita (community edition) contains connectors to the RPA system UIPath. Vice versa, UIPath also provides connectors to Bonita. I have tested this integration using the following two examples:
In the first example, order data are provided as Excel sheets. They are read by an RPA bot. Then the bot starts a Bonita process and hands over the order data.
In the second example, a Bonita process calls an RPA bot in order to retrieve a currency exchange rate from a website.
More »